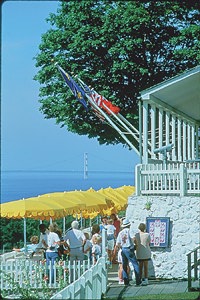 Fort Mackinac will open for the season on May 2nd for lunch! See you then!
One of the most delightful and scenic settings on Mackinac Island to enjoy luncheon or a late afternoon snack. Tour this historic site and relax afterwards with a delicious meal and exceptional view of downtown Mackinac Island and the harbor. Admission to Fort Mackinac is required. A visit to Fort Mackinac includes a self-guided tour of the Fort, seeing 1780s soldiers demonstrate rifle firings and a cannon salute over the harbor. For more information about Fort Mackinac visit click here.
Outdoor and indoor seating available.
There is tipping at Fort Mackinac Tea Room.
<>
Fort Mackinac Tea Room
7127 Huron Road
Mackinac Island
906-847-6327
<>
Visit the Fort Mackinac Tea Room Website >>>>
<>
<>
Visit the Fort Mackinac Tea Room Website >>>>
<>