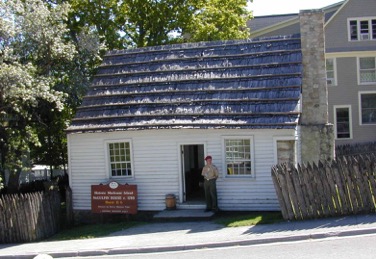 The McGulpin House is a gable-roofed French Canadian "pièce sur pièce, à queue d`ronde" (squared horizontal logs with dovetail corners) structure. It was moved from its east-end location behind Ste. Anne's ("Lot 14") to its present location in 1982. Based on its construction techniques, it is clear that the house was probably built around 1780, when Mackinac Island was first settled. It may even have been a house dismantled and moved to the island from Fort Michilimackinac at that time.
Origins of the House
Early land records suggest that there was a dwelling on Lot 14 owned by Charles Chandonet built prior to 1796. An 1805 map by Robert Dickson shows a dwelling on the property. The property was sold to Dr. David Mitchell in about 1808 who sold it to William McGulpin in 1817.
The McGulpin Family
William was the son of Patrick McGulpin and Mary Magdelene Crequi. Patrick, a native of Glasgow, Scotland, emigrated to North America in 1776 and eventually settled in Detroit, where he worked as a tailor. William, born in Detroit in 1791, was baptized into his mother's Roman Catholic faith in 1793. A few years later, the family moved north to Mackinac Island. William grew up on the island. He married Madeleine Bourassa in 1815. For at least part of his life, William McGulpin worked as baker for the American Fur Company. He was also an active member of Ste. Anne's Church, serving as a warden for several years.
Later History
The McGulpin family owned the property for more than sixty-two years. The west portion, noted above, was eventually torn down and a small addition was added to the east end. It passed through several owners after the 1870s, but remained an occupied dwelling until the 1970s.
The building was acquired by the Mackinac Island State Park Commission in 1982 with the condition that it be moved. A new site was found on a vacant lot at Market and Fort Streets, opposite the Beaumont Museum. All the later additions were removed and only the original log portion was moved to the new site. After moving it was carefully restored with the help of Mackinac Associates.
McGulpin House
Mackinac State Historic Parks
Mackinac Island, MI 49757
906-847-3328
<>
Visit Historic Mackinac Island Downtown Website >>>>
<>
<>