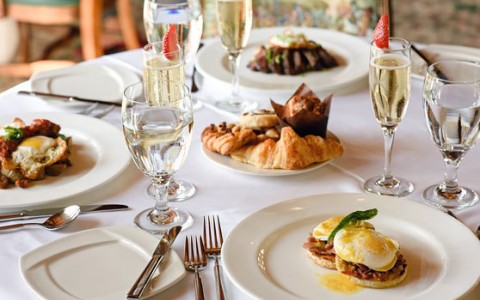 Mission Point Resort is proud to offer farm-to-ferry dining at six unique restaurants and eateries, all of which are open to the public and available to both guests and visitors of the property.
Chianti is a destination for foodies and wine lovers, offering an elevated dinner experience with a prix fixe menu. Round Island Kitchen is the heart of Mission Point and is open daily for breakfast, lunch, dinner and late night. Bistro on the Greens embodies the liveliness of island living, best known for craft cocktails and mocktails and a Mediterranean-inspired menu.
Mission Point is also home to Boxwood Coffeeshop & Cafe, Strait UP Coffee and Lily's Lemonade which offer a variety of to-go food and beverage options.
Guests of Mission Point under age 12 also eat free at Round Island Kitchen and Bistro on the Greens!
Many people ask "How does Mission Point get fresh produce and ingredients?"
The location on an island in the Straits of Mackinac does present some unique logistical challenges in securing regular deliveries of goods and resources to the resort, which must be delivered either by ferry or flight before a horse-drawn dray delivery. So, with a lot of plan-ning and communication between mainland farms, transportation providers and the culinary team, fresh produce, dairy, and other products make their way from farm to ferry and onto guests' plates within a matter of days from being picked.
<>
Chianti – Mission Point Resort
A Destination for Foodies and Wine Lovers You won't find a culinary adventure like Chianti on Mackinac Island or in northern Michigan. Every detail on our farm-to-ferry menu matters – from the wine picked exclusively for Mission point to our seasonal samping of the region's bounty. Chianti serves a hand-crafted 5-course prix fixe menu. Reservations are required [...] more...
Round Island Kitchen – Mission Point Resort
The Heart of Mission Point With our Michigan twist on classic comfort foods, Round Island Kitchen is where families, friends, and couples gather to round out their Mackinac Island experience. When families visit the heart of Mission Point, they leave feeling more connected to the island than before. Round Island Kitchen is open for breakfast, lunch and dinner [...] more...
Bistro on The Greens – Mission Point Resort
Live like a Mackinac Island local Bistro on the Greens embodies the liveliness of island living. Best known for our craft cocktails and Mediterranean-inspired menu, we've exchanged the Mediterranean's crystal waters for the beautiful backdrop of the Straits of Mackinac. Bistro on the Greens is open seasonally from late May to early September and is weather dependent. [...] more...
Coffee & To-Go Food – Mission Point Resort
Enjoy some of Mackinac Island's best picnic provisions at Mission Point Resort in one of the island's best picnic locations, the Great Lawn. MPR is home to two coffee shops: Boxwood Coffeeshop & Café, located in the Main Lodge Marketplace and Strait UP Coffee, located in the Straits Lodge east lobby. Both of these outlets [...] more...
<>
Mission Point Resort Dining – Photo Gallery (Click on photos for captions & slideshow view)


<>
Mission Point Resort Dining Photos on Facebook >>>
<>
<>
Visit Mission Point Resort Dining Website >>>>
<>
<>
Visit Mission Point Resort Dining Website >>>>
<>