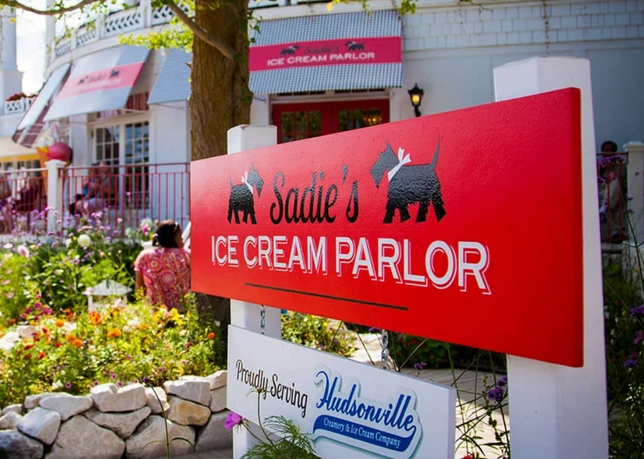 Satisfy your sweet tooth in the most delightful of ways at Sadie's Ice Cream Parlor. It offers multiple flavors of Michigan-made Hudsonville Ice Cream, as well as milk shakes, sundaes, banana splits, chocolate hand-dipped cones, mini Grand Pecan balls on a stick, and a special Grand Sundae built to share. Specialty Sadie's gift items and merchandise are also available.
The Parlor is located outside the hotel's east entrance, and features indoor seating with café tables and seats, or outdoor benches. It's open to all Mackinac Island visitors, with no hotel admission fee required.
Started in 2013, Sadie's Ice Cream Parlor is named after Sadie, who was owned by hotel Chairman R.D. Musser Jr. and his wife, Amelia. Sadie was awarded "Best in Show" at the 2010 Westminster Dog Show.
This classic American ice cream parlor was decorated by Grand Hotel's long-time interior designer, Carleton Varney of Dorothy Draper and Co. in New York.
<>
Sadie's Ice Cream Parlor
1891 Cadotte Avenue,
Mackinac Island
(906) 847-3331 ext. 689
<>
Visit Sadie's Ice Cream Parlor Website >>>>
<>
Sadie's Ice Cream Parlor – Photos From Instagram
Here are the latest photos of Sadie's Ice Cream Parlor via instagram. If you have an instagram photo to share of your visit to the Sadie's Ice Cream Parlor, choose "Sadie's Ice Cream Parlor" as your location and your photos will appear in the photo stream.
<>
<>
Visit Sadie's Ice Cream Parlor Website >>>>
<>