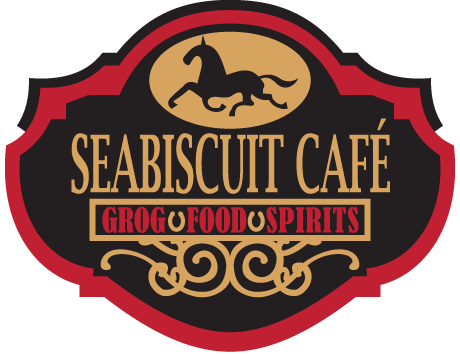 This popular Mackinac Island eatery features a celebratory horse theme starring the 1938 true life story of the famous champion thoroughbred, Seabiscuit.
The former 1800's bank building was renovated to reveal the original brick walls and hardwood floors transforming it into one of Mackinac Island's most popular watering holes.
A unique and casual menu appropriately fits this cozy café. Seabiscuit fans rave about the deliciously fresh menu options. Discover your new favorite cocktail, the Mamosa.
Open 7am until 2am serving breakfast, lunch, dinner, and creative cocktails. 
Seabiscuit Cafe
P.O. Box 1997
7337 Main St
Mackinac Island, MI 49757
906-847-3611
<>
Visit Seabiscuit Cafe Website >>>>
<>
Seabiscuit Cafe On Facebook
Below are the latest postings from the Seabiscuit Cafe Page On Facebook.
<>
This message is only visible to site admins
Backup cache in use.
PPCA Error: Due to Facebook API changes it is no longer possible to display a feed from a Facebook Page you are not an admin of. The Facebook feed below is not using a valid Access Token for this Facebook page and so has stopped updating.
<>
Visit Seabiscuit Cafe On Facebook >>>
<>
Seabiscuit Cafe – Photos From Instagram
Here are the latest photos of Seabiscuit Cafe via instagram. If you have an instagram photo to share of your visit to Seabiscuit Cafe, choose "Seabiscuit Cafe" as your location and your photos will appear in the photo stream below.

This error message is only visible to WordPress admins
Error: No feed type selected. Please use a feed type of "user", "hashtag", or "mixed".
<>
<>
Visit Seabiscuit Cafe Website >>>>
<>