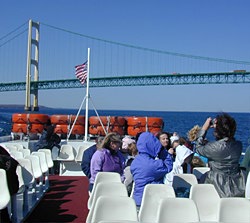 First Class Service. Every Guest. Every Day.
Shepler's clean, comfortable passenger ferries zip you safely to Mackinac Island in just 16 minutes!
You may choose from the cushioned seats and wide aisles of our main deck lounge, or experience a spectacular panoramic view of the Straits of Mackinac from the open-air top-deck seating area.
Quick Links:
• Night Ski, Fireworks and Lighthouse Cruises
Shepler's Mackinac Island Ferry
556 E. Central
Mackinaw City, MI 49701
1-800-828-6157
<>
Visit Shepler's Mackinac Island Ferry Website >>>>
<>
Shepler's Mackinac Island Ferry On Facebook
Below are the latest postings from the Shepler's Mackinac Island Ferry Page On Facebook.
<>
This message is only visible to site admins
Backup cache in use.
PPCA Error: Due to Facebook API changes it is no longer possible to display a feed from a Facebook Page you are not an admin of. The Facebook feed below is not using a valid Access Token for this Facebook page and so has stopped updating.
<>
Visit Shepler's Mackinac Island Ferry Facebook Page >>>
<>
Visit Shepler's Mackinac Island Ferry Website >>>>
<>